Mon 17th – Fri 21th July
It's time to Level Up!!
This next Block is 13 Weeks and takes us up to HYROX Birmingham
Here's the Brand New Testing Week broken down…
I hope you're ready for a MASSIVE WEEK!!
Testing Sessions will be every day 0545am / 12:30 / 18:00
You should try get to all 5 x Sessions (Mon – Fri)
WHY DO IT?
This is a great way to find out where you are, it will give you direct feedback on how you are progressing with your training and your weekly programming will be based from these results.
It also gives us a really good indication of how we are doing as a community overall.
To record your scores – just add your data into the WodUp App
If you're slightly intrigued with the New HYROX S&C then you need to get TESTING WEEK IN
DAY 1 – MON
STANDING LONG JUMP
1RM DEADLIFT
BENCHMARK SESSION 1
DAY 2 – TUE
30s EFFORT BIKE ERG TEST
1RM BENCH PRESS
BENCHMARK SESSION 2
DAY 3 – WED
CONCEPT 2 – MIKKOS TRIANGLE
DAY 4 – THU
1RM STRICT SEATED SHOULDER PRESS
2000m ROWERG / SKIERG
4000m BIKEERG
DAY 5 – FRI
STRICT PULL UPS / RING ROW MAX
1RM BACK SQUAT
BENCHMARK SESSION 3
Here is a Breakdown…
STANDING LONG JUMP
You will stand behind a line marked on the ground with feet slightly apart. A two-foot takeoff and landing are used, the swinging of the arms and bending of the knees are what provide forward drive. The idea is to jump as far as possible, landing on both feet without falling backward. We will do this 3 times and take the average of the 3 jumps as the final score. The aim is to measure explosive leg power.
DEADLIFT 1RM TEST
BENCH PRESS 1RM TEST
BACK SQUAT 1RM TEST
If you've done these lifts before, you might have a good idea of where your 1RM is.
Have a plan or a number that you want to hit and work backward from there. Usually, it is about 6-8 sets depending on how you feel. The rest breaks are 3 mins between sets, with longer rest the closer you get to the doubles and singles.
All your lifts are to be technically correct. When your form breaks, then that's where you sit.
This is really important, chances are you're not used to lifting to this limit, so as soon as the form breaks, STOP!!!
If you're really uncomfortable with the lifts at 3 Reps, we can calculate your 1RM from there… don't push on
If you're getting twinges, STOP!!!
The image below is a breakdown plan for a 1RM attempt of a 200kg Deadlift.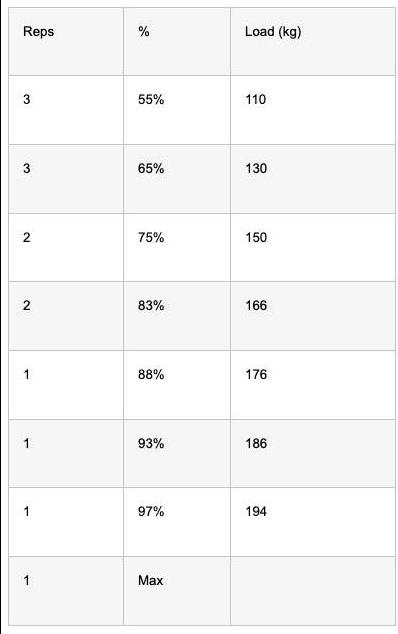 MAX BODY WEIGHT PULL UPS / RING ROWS
This one is pretty simple, obey the movement and record the number correctly, if it's a maybe, it's a no. Chin over the bar or chest to the bar, start from a dead hang, and return to the bottom each rep. No bent arms or kipping of any sort. If your knees come up to or past your waist then it's a no rep.
30s BIKEERG TEST
This one should break you.
All out, nothing left in the tank. Set the BikeErg for 30 seconds (time) and away you go.
ROWERG / SKIERG 2000M TIME TRIAL
BIKEERG 4000M TIME TRIAL
Testing all Energy Systems
Short enough to go hard… Long enough to break you (literally)
You'll go through some tough spells mentally… get a strong start in, settle into it and ride it out, remember it's only 7 – 9 mins, once it's done, it' done
CONCEPT 2 MIKKOS TRIANGLE
10 x Rounds (40 mins)
Min 1: SKIERG
Min 2: ROWERG
Min 3: BIKEERG
Min 4: REST
Set a Target Cals to hit each effort, try stick to it
BENCHMARK SESSION 1
4 x Rounds
4 mins work / 1 min rest (20 mins)
200m RUN
15 x BARBELL THRUSTERS @ 40 / 25
5 x OVER BOX BURPEE @ 24 / 20
MAX CALS SKI IN REMANING TIME
SCORE = TOTAL CALS
BENCHMARK SESSION 2
15 MIN AMRAP
15m SANDBAG LUNGE @ 30 / 20
15m BURPEE BROAD JUMP
15 Cal BIKEERG
SCORE = AMOUNT OF ROUNDS
BENCHMARK SESSION 3
FOR TIME:
3 x ROUNDS
20 x WALL BALLS @ 9 / 6
20 x SUMO DEADLIFT HIGH PULL @ 35 / 25
20 x BOX JUMPS
20 x PUSH PRESS @ 35 / 25
20Cal x ROWERG
SCORE = TIME