When it comes to building a Training Session, it all comes down to:
WHAT TIME WE HAVE?
and
WHAT OUR AIMS ARE?
Generally, 1VIGOR Sessions are 45 – 60 mins, and ultimately there is a Minimum Effective Dose and Maximum Effective Dose for any activity
Within any given Strength & Conditioning Session, our aim is to Program what we deem to be the right Training Methods, with the right Exercise Selection, and the right Volume and Intensities for each.
There are a lot of Variables to consider. The Key is to pick the activities that tick the right boxes and have the most bang for their buck.
As a client, don't waste time. Get to the Session early if you can and get set up. Start with some specific mobility work and be prepared for the start of the Class. Approach your Session with INTENT!!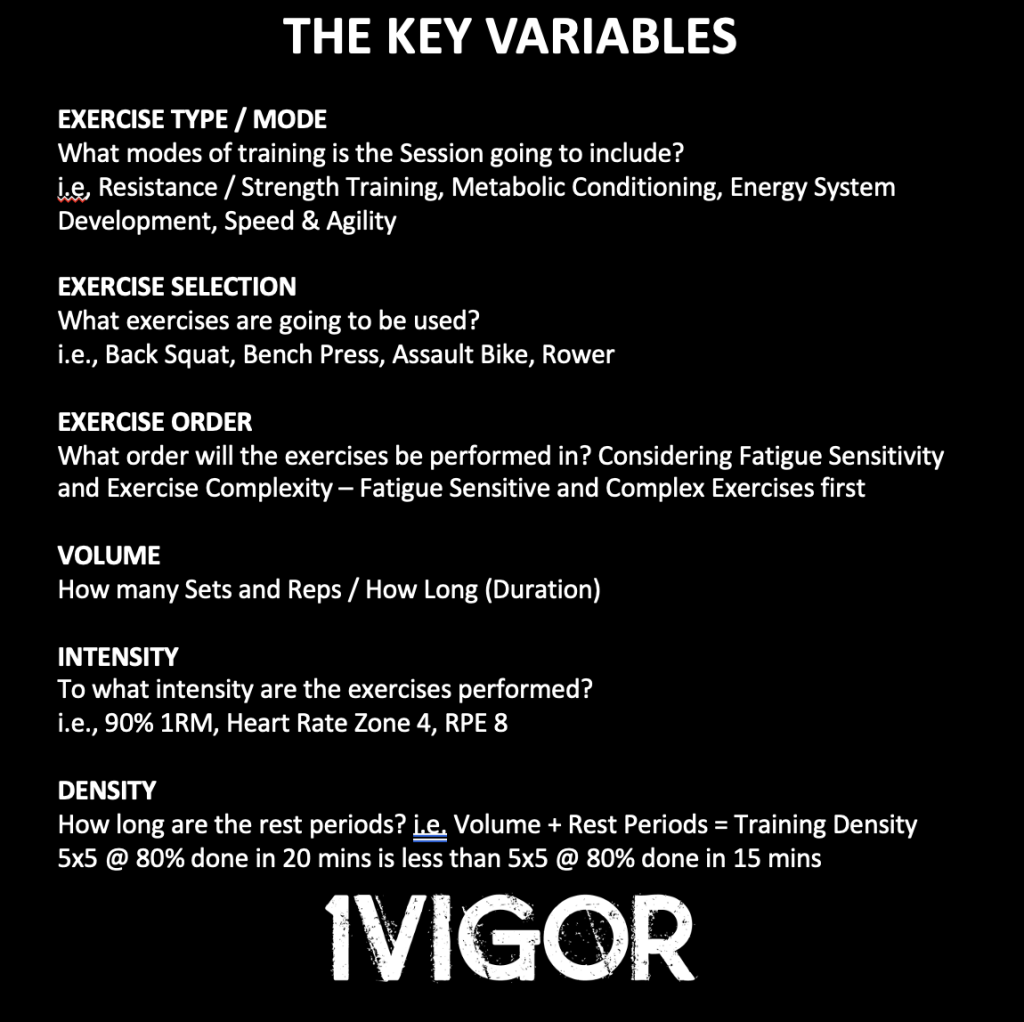 THE BIG 8
Strength Training is simply the process off progressively adding resistance to the BIG 8 Human Movements (1 movements + 1 Precursor)
BRACE:
The ability to create tension and maintain a position. Bracing is a vital part of maintaining posture, both statically (still) and dynamically (on the move)
HINGE:
Bending at the Hips whilst keeping the knees straight and maintaining a neutral spine – Hip Hinge and Deadlifting exercises are often described as "Lower Body Pull"
SQUAT:
Bending at the hips, knees and ankles while maintaining a neutral spine – Squat and Single – Leg Exercises can also be known as "Lower Body Push"
LUNGE:
Single Leg Exercises that work the legs independently from one another (Unilateral)
PUSH:
Pushing with the Upper Body
PULL:
Pulling with the Upper Body. The Deadlifting exercise is often categorised as "Pull" (pulling from the floor). However, the Deadlift can be better categorised as a Hinge Exercise as the emphasis is on Hip Extension
ROTATE:
Rotation is primarily performed at the hips and shoulders (ball and socket joints) and through the spine through a series of facet joints. These structures can work in isolation or together to produce larger rotational actions.
GAIT:
Walking, Running and Carries
PRIMARY & SECONDARY LIFTS
We develop the BIG 8 movements with Compound Exercises and Isolation Exercises.
Compound Exercises work multiple muscle groups and joints at the same time to perform a movement:
Squat, Deadlift, Bench Press, Lunge, Pullovers, Press Ups, Pull Ups
Isolation Exercises work single joint actions and target the individual muscles responsible for performing the actions
The ideal way to order exercises is to start with Primary Lifts, move onto Assistance Lifts and finish with Auxiliary Lifts